Every individual, group and business have a story worth telling.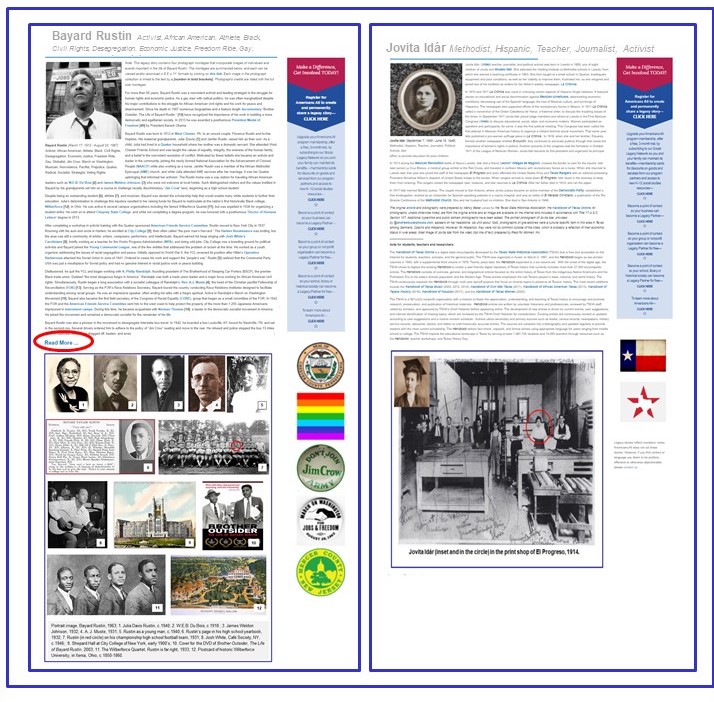 A legacy story can be presented in text and through photographs, home movies and other video and audio mediums. It can also be published in multiple languages and include hyperlinks to other Web sites important to the honoree. The Heritage Honor Roll may contain more than one legacy story for an individual or a group—or the legacy story may appear in more than one language—because members have opted to recognize different contributions of the same individual or group or wanted to share the story in their native language.
We also offer Legacy Partner landing pages where viewers can see all the individual stories published on the Heritage Honor Roll that are associated with their school, team or club. Nonprofit organizations can also create Legacy Partner landing pages to host stories of their members. In addition, landing pages can be created for various issues/topics, such as COVID-19, 9-11, or any event or date that has multiple stories about it.
Leveraging the public's interest in legacy preservation enables Americans All to continue to pursue our education mission. We gift 80 percent of unapplied gross revenues from business membership fees and Social Legacy Network subscription fees to local communities.
See our Sponsor Directory for a listing of members and their honoree's legacy stories.
Click here to view the benefits of using an Americans All Heritage Honor Roll legacy story to best keep your loved one's memory alive, forever. his is an additional way a legacy story can be used.
Click here to view a cost-benefit analysis of a newspaper obituary and an Americans All Heritage Honor Roll legacy story. 
Within the Heritage Honor Roll, individual honorees are listed alphabetically by last name. If included, maiden names appear between parentheses and nicknames appear between quotation marks (but are not picked up by the Search Engine). Group honorees are listed by the first letter of the group's name. If the name starts with the word "The," such as "The Anderson Trio," it is alphabetized under the letter "T." If the group is commonly called "Anderson Trio," it is alphabetized under the letter "A." The name of the sponsor appears in square brackets following the honoree's name.
If an exact date of birth or death—or formation or disbandment—is not known, we add "c." to indicate it is an approximation. If the individual is still alive or the group is still active, we add a "?." The honoree's occupation, field, industry or profession is listed last.
Legacy stories reflect members' views. Americans All does not vet these stories for accuracy. If you find content or language you deem offensive, please contact us.
To enable users to view all legacy stories, we preset the "Language" field to "-Any-." To view all legacy stories on a specific honoree, add the honoree's name in the appropriate field—individual or group– and click "Apply." All legacy stories on that honoree will appear.
To find a legacy story about an individual or a group on our Website, type "www.americansall.org/node/" followed by its six-digit identification number as shown here: www.americansall.org/node/566231 or insert the name of the individual or group in the "Search" box at the top of each page and click on Search.