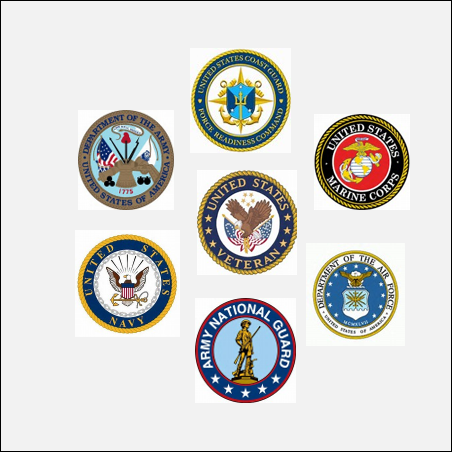 The story of America is about the countless men and women who give up their own comfort, the company of their loved ones, and sometimes their lives, in service to our nation.
From the Revolutionary War to the worldwide fight against ISIS, in times of both war and peace, military personnel endure hardship so Americans can enjoy peace and freedom. Yet, because these men and women often serve in anonymity, their stories of sacrifice and dedication to duty can be lost forever. By creating and sharing a permanent record of their service, current and future generations gain insights and inspiration.
As a proud member of a military family, you will benefit by joining Americans All, a program of the 33-year-old nonprofit People of America Foundation. This program uses legacy stories to highlight the contributions and common experiences of all Americans. We want to uphold our nation's values of diversity, tolerance and acceptance by investing more than half of membership fees to provide inclusive social studies instructional resources that also help students succeed in our democracy, economy and workforce. Some of the classroom resources inform students about how military personnel have protected and served our nation.
A one-time, tax-deductible fee of only $49 ($24.50 using a discount Legacy Partner Promo Code—registers a member, provides a template to create a story and affords access to our social studies materials. Because education is a lifelong pursuit, we gift our members a free, 3-month trial subscription to our Social Legacy Network to get even more benefits. However, schools, students and students' families and friends participate in Americans All at no cost and receive a free, 3-month trial to our Social Legacy Network. If your story is created by a student, it would be free.
Benefits of Membership in Americans All and Its Social Legacy Network
Americans All members can create and edit a legacy story and share and preserve it forever on our Web-based Heritage Honor Roll and on the home pages of our Legacy Partners. This story:
 Can contain up to 2,000 words, of which 1,000 can be password protected.

 Can be published in multiple languages and be updated at no cost.

 Can be enhanced with photographs, home movies and audio recordings.

 Can include links to other Heritage Honor Roll legacy stories, social media sites and other Web pages.

 Can be shortened to print on an 8½" x 11" template to share with family and friends.

 Can take advantage of our secure event, anniversary and memorial information e-mail tool.
Members and their families can also access our existing K–12 social studies information—a $500+ value.
The free, 3-month Social Legacy Network trial subscription gives members and their families access to:  
These benefits can continue after the trial period ends for only $4 per month.
Click here for tips on "How to create a legacy story."
Click here for tips on "Storytelling for younger children."
Click here to view our program videos.
Click here to view our program overview.
Click here to register for Americans All so you can create and share a legacy story and receive program benefits.
Click here to see stories on military personnel on our Heritage Honor Roll.
Click here to learn how your family can become a Legacy Partner.
Any questions? Please contact Americans All.