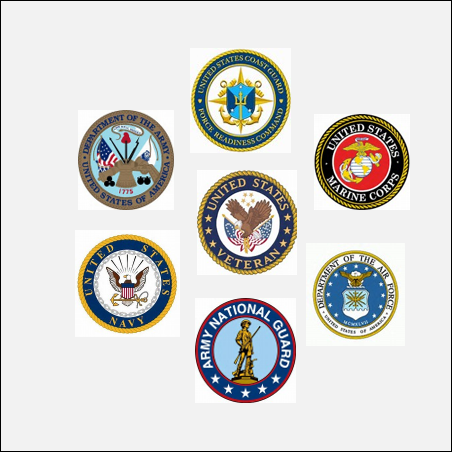 The story of America is about the countless men and women who give up their own comfort, the company of their loved ones, and sometimes their lives, in service to our nation.
From the Revolutionary War to the worldwide fight against terrorism, in times of both war and peace, military personnel endure hardship so Americans can enjoy peace and freedom. Yet, because these men and women often serve in anonymity, their stories of sacrifice and dedication to duty can be lost forever. By creating and sharing a permanent record of their service, current and future generations gain insights and inspiration.
As a proud member of a military family, you will benefit by joining Americans All, a program of the 35-year-old, 501(C)(3) nonprofit People of America Foundation. This program uses legacy stories to highlight the contributions and common experiences of all Americans. We want to uphold our nation's values of diversity, tolerance and acceptance. And for those families that have unfortunately lost a loved one, this is another opportunity gain closure, especially if they never had a chance to says their final good-byes.
Our storytelling tool is free for individuals, education organizations and nonprofits. Businesses and service providers, pay a nominal fee to create their stories which can be used—and updated daily—to reach, and offer discounts to, their current and future customers and clients.
In Phase 2, after a 3-month free trial, we offer our members an optional, inexpensive subscription upgrade to continue to receive program benefits and partner discounts. Importantly, we invest 80 percent of member subscriptions and business fees in communities that support our program. Schools are a direct beneficiary of all revenue we receive.
Storytelling helps students, especially those in high school, further their knowledge of history; strengthen their communications, research and writing skills; and help prepare them for success in our democracy, higher education and workforce. This nonpolitical resource can be implemented in several curriculum areas without interfering with existing teaching strategies. A student could help a family that lost a loved one create their story and design their photograph collection.  
What makes us unique is that we include verified historical information—presented in multiple, nonpolitical perspectives—to provide context for these stories and the experiences, observations and accomplishments reflected in them. This will help schools gain valuable information on military history and the local heroes who played a major role in keeping us safe.
Benefits of Membership in Americans All and Its Social Legacy Network
Americans All members can create and edit a legacy story and share and preserve it forever on our Web-based Heritage Honor Roll and on the home pages of our Legacy Partners. This story:
 Can contain up to 2,000 words, of which 1,000 can be password protected.

 Can be published in multiple languages and be updated at no cost.

 Can be enhanced with photographs, home movies and audio recordings.

 Can include links to other Heritage Honor Roll legacy stories, social media sites and other Web pages.

 Can be shortened to print on an 8½" x 11" template to share with family and friends.

Members and their families can also access our existing K–12 social studies information—a $500+ value.
Click here for tips on "How to create a legacy story."
Click here for tips on "Storytelling for younger children."
Click here to register for Americans All so you can create and share a legacy story and receive program benefits.
Click here to see stories on military personnel on our Heritage Honor Roll.
Click here to learn how your family can become a Legacy Partner.
Any questions? Please contact Americans All.